Exhibit
Gallery
Voices of the Vigil
An original exhibition created by the Jewish Historical Society of Greater Washington.
September 1 - October 19, 2014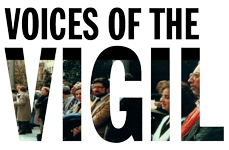 Reception:  Sunday September 7,  2 – 3:30 p.m.
Program will include remarks by Ambassador Richard Schifter, "Voices of the Movement" concert by Robyn Helzner, and ceremonial ribbon cutting.
Read a powerful reflection entitled "Reliving the Vigil" by Norman Goldstein, chair of the Jewish Historical Society of Greater Washington's Community Advisory Committee for the Voices of the Vigil exhibition.
This award-winning exhibition tells the story of the two-decades long effort by Washington Jews to free their refusenik brethren living in the Soviet Union. Voices of the Vigil showcases more than 90 historic photos, archival documents, protest buttons and t-shirts, and other memorabilia to tell the story of our community's role in the struggle for freedom for Soviet Jewry. In addition to holding a 20-year daily vigil across the street from the Soviet Embassy, Washington Jews organized rallies and marches, lobbied politicians, mailed letters and packages to refuseniks, and visited Jews in the Soviet Union.
Open when JCCGW is open; free admission.
For more information please contact Phyllis Altman at paltman@jccgw.org or 301-348-3770.