Family Engagement with the Bender JCC & PJ Library
What is J Play?
The Bender JCC of Greater Washington, along with PJ Library, welcomes Montgomery County families to join us for fun-filled Jewish experiences both inside and outside the walls of the Bender JCC.  Through play dates, community events, and holiday celebrations we aim to connect families and build friendships in their geographic area (Play dates occur throughout MoCo, not just Rockville).
The Bender JCC embraces and welcomes the diversity of our community and encourages everyone to seek meaning and fulfillment by participating in our rich programming inspired by our Jewish heritage.  We open our doors to everyone, including people of all backgrounds, religions, abilities and sexual orientations, and interfaith couples and families. Inclusion permeates our Center.
What else can families with young children do at the Bender JCC?
From our renowned preschool and camp programs to our resource-packed parenting center, children and families thrive at the Bender JCC. The Bender JCC provides activities, classes and educational opportunities for the whole family.  Celebrate Jewish holidays, cultivate essential developmental skills, and create play-filled memories and much more.  The Bender JCC also offers a fantastic fitness experience for your young ones. Children can make a splash in our indoor and outdoor pools, run around in our children's play gyms, and take entry level sports, arts, dance, and music courses.
J Play & Family Engagement Programs
UPCOMING J Play EVENTS
Challah Tots
Check out our NEW summer dates!
Join the JCC of Greater Washington for preschool-friendly challah making, activities, and a PJ Library story time in preparation for Shabbat.  Click here for more info
Tu Luv: A Celebration of Tu B'Av
Sunday, August 21st, 2016
10:30 a.m. – 12:00 p.m.
Join the Israeli House, PJ Library, and the Bender JCC for a family friendly event commemorating of Tu B'Av, The Jewish holiday of love.  We will begin at 3pm with a puppet show depicting the story The Love of 2 Brothers. The play will be in both Hebrew and English. Following the play there will be "love" themed arts & crafts. Click here for more info
Splash Into Shabbat with a Dairy Potluck Shabbat Dinner
Friday, August 26th 2016
5:00 – 7:45 p.m. 
Join the Bender JCC and B'nai Israel Congregation for family friendly Shabbat by the pool. Bring a picnic dinner for yourself or participate in our communitywide potluck. Click here for more info
Pick n' Picnic
Wednesday, September 14th 2016
10:30 a.m. – 12:00 p.m. 
Come join the Bender JCC, Shaare Torah, and PJ Library at Butler's Orchard for a Rosh Hashanah (Jewish New Year) celebration. Click here for more info

Jewish Bedtime Stories & Songs
What is PJ Library?
Parents of small children know that stories are for more than just bedtime. The wonderful habit of ending your child's busy day by reading together inspired this popular national program funded in part through the Harold Grinspoon Foundation. Greater Washington families raising Jewish children between the ages of 6 months and 8 years old. Subscriptions (one per family) are offered on a first-come, first-served basis. Invite friends, family, and neighbors to join in as well!
Sign up today!
Join a growing global community of more than 200,000 PJ Library families throughout North America and Israel and sign up today! Enroll here!
Visit PJ Library of Greater Washington to learn more about our local PJ Library Community.
Please contact Jennifer Radosh, our Family Program Coordinator, at jradosh@jccgw.org or 301-348-3848 with any questions, suggestions, or just to help out!
Featured
PJ Book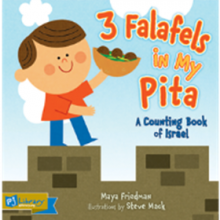 3 Falafels in My Pita: A Counting Book of Israel
How many ways do we love Israel? Let's count them...at least up until we reach the number 10!