The JCC of Greater Washington is more than just your gym, your music school, your children's preschool or summer camp. Thanks to our members, program participants and friends, the Center has been able to serve our community's diverse interests and needs for more than 100 years.
Donate We need your support to ensure that we can continue to serve our community for generations to come.
Community Matters: Supporting Your Center, Making a Difference
Learn how our generous donors are making a meaningful difference in the donor newsletter.
Ways to Give
JCCGW Annual Fund
The JCCGW receives requests for more than $500,000 in financial aid each year. Donations to the Center's Annual Fund provide assistance to those in the community who need it most.
Children's Scholarship Fund
As families fall upon hard times due to financial struggles stemming from job loss, illness or other crises, requests for scholarships continue to soar. Community support is vital in providing assistance to these families.
Events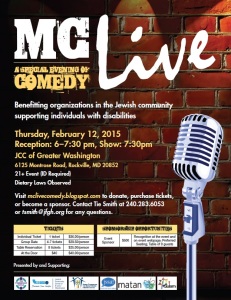 MC Live! A Special Evening of Comedy | Thursday, February 12, 2015
6:00 p.m. Reception | 7:30 p.m. Show | Purchase Tickets
MC Live! is an event collaboration hosted by six organizations within the Jewish community whose passion is providing a quality of life to individuals with disabilities. All proceeds from the event will benefit: Friendship Circle, Jewish Community Center of Greater Washington, Jewish Foundation for Group Homes, Jewish Social Service Agency, Matan, and Sulam.
Dinner of Champions
The annual event raises critical funds for Camp JCC's award-winning inclusion program. The evening honors individuals with strong accomplishments in athletics, academics and community service.
Volunteer
The gift of your time, talent and expertise is one of the most important ways to support your Center. The JCCGW is in constant need of enthusiastic volunteers. To volunteer please contact Stacy Katz Olivera at 301.348.3889 or solivera@jccgw.org.
Documents and information submitted under the Maryland Solicitations Act are available, for the cost of postage and copies, from the Maryland Secretary of State, State House, Annapolis MD 21401, (410) 974-5534.  Documents and information submitted under the Virginia Solicitation of Contributions Law are available, upon written request from the Commonwealth of Virginia, Office of Charitable and Regulatory Programs, PO Box 1163 Richmond, VA  23218. 
Annual Report
View our 2012-2013 Annual Report here or download a printable PDF.