Connecting our community to the people, history, culture, and land of Israel remains a core value of the JCCGW. From lectures and dance to film, music, and art, the Center offers exciting, innovative ways to learn about Israel—past, present, and future.
Programs include the Center's annual free Israel Fest, Israel-centric holiday celebrations and commemorative events, our Shlichut program, when a young Israeli comes to our Center as an Israel Emissary for the year, free lunch & learns, and much more.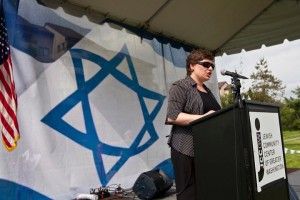 Upcoming Event
Israel Fest: Sunday, May 18, 2014
Biblical Archaeology Forum: 2013-2014 Season
Now in its third decade, the Biblical Archaeology Forum (BAF) presents a series of scholarly lectures on the latest archaeological research and findings of Biblical times. Learn more about the 2013-2014 season.
Interested in learning more about Israel programs at the JCCGW? Contact us!