Connecting our community to the people, history, culture, and land of Israel remains a core value of the JCCGW. From lectures and dance to film, music, and art, the Center offers exciting, innovative ways to learn about Israel—past, present, and future.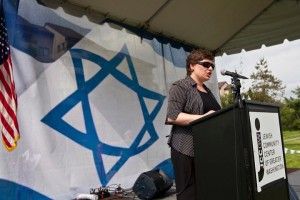 Read more about Israel at the Center
Programs include the Center's annual free Israel Fest, Israel-centric holiday celebrations and commemorative events, our Shlichut program, when a young Israeli comes to our Center as an Israel Emissary for the year, free lunch & learns, and much more.
Upcoming Events
Good Deeds Day: Sunday, March 15, 2015
Israel Fest: Sunday, May 31, 2015
Taglit-Birthright 10-Day Trip to Israel
IAC Shelanu trip for Israeli-Americans ages 18-26!
Registration opens September 9, 2014 at www.freejourneytoisrael.org/IACBirthrightIsrael
Click here for the flyer with more details.
Biblical Archaeology Forum: 2014-2015 Season
The Biblical Archaeology Forum (BAF) is going to war – during its 2014-2015 lecture season. Come and enjoy eight notable scholars giving illustrated talks on ancient conflicts: battles between God and Satan, Carthaginians v Romans, Sea Peoples versus the civilized world at the end of the Bronze Age, Alexander the Great, the Jewish Revolt against Rome, Ammonites battling the Israelites, the Assyrians in Israel, and even notable royal assassinations.
Now in its third decade, BAF presents a series of scholarly lectures on the latest archaeological research findings and related fields such as history, art and texts of ancient times. Read more.
Interested in learning more about Israel programs at the JCCGW? Contact us!