Connecting our community to the people, history, culture, and land of Israel remains a core value of the JCCGW. From lectures and dance to film, music, and art, the Center offers exciting, innovative ways to learn about Israel—past, present, and future.
Programs include the Center's annual free Israel Fest, Israel-centric holiday celebrations and commemorative events, our Shlichut program, when a young Israeli comes to our Center as an Israel Emissary for the year, free lunch & learns, and much more.
Israel Fest 2016
Sunday, June 5, 2016 | 2-6 p.m. | at JCCGW
Apply For a Booth as a Vendor/Artisan
Apply For a Table as a Synagogue/Organization
Israel Fest is at the JCCGW this year and will include the following:
Gaga Pit
Petting Zoo
Food for Purchase
Face Painting & Henna Tattoos
Hands-on Activities & Craft Projects
Music Performance from an Israeli Band
Entertainment
Israeli Yoga & Dancing
Israeli-style Shuk
Click here to check up on more details!
Travel To Israel
Jerusalem of Iron
by Danielle Flicker, Israeli Shlicha (liason) for JCCGW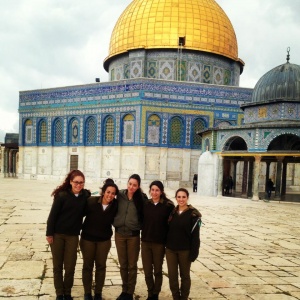 As I sat down to write my blog, I asked myself what topics I should focus on. Should I write about the last few terror events?  Should I focus on the personal stories of the victims? Or maybe the heroic civilians who saved many lives while risking their own? Should I write about my city of Jerusalem that turned into a war zone where the tourists don't visit and businesses shut down, leaving hundreds unemployed?
Like all Israelis, my phone has an app notifying me of emergencies. This past week, horrifically, my phone hasn't stopped ringing.  Our Prime Minister is working with the security cabinet to discuss measures to quell the violence.  Earlier this month, the Palestinian Authority President called for calm.  The US Secretary of State is planning to travel to Israel to help stop the senseless and barbaric attacks.
Several weeks ago a husband and wife in their 30s, Eitam and Na'ama Henkin from the settlement of Neria, were killed in a drive-by shooting attack on the road between Itamar and Elon Moreh in the West Bank. Their four children, aged 9, 7, 4 and 4 months, were in the car and were said to be physically unharmed but treated for shock.
After the death of the couple, Yishay Armoni, the brother of Na'ama Henkin, said the following:
"If you're out for revenge dig two graves, one of them for yourself. I want my sister back. And if that's not possible then I want no one else's sister to be taken away. Ever. Thanks."
I choose these words to inspire me during this hard time. People like Yishay, who have suffered deep personal loss from this ongoing war with terror, seek not revenge, but the overwhelming desire that their beloved's death will not be in vain. We Israelis, as well as law-abiding people all over the world, need to first understand, then to be understood.  Likewise, we must unite to make it clear that terrorism does not work to further a cause, and just perpetuates the next generation of hate and violence.
For more information about Israel at the Center, please contact Danielle Flicker, Israeli Shlicha (liason), at 301-348-3863 or dflicker@jccgw.org.
Biblical Archaeology Forum
2015-2016 Schedule and Subscription Information
Now in its third decade, BAF presents a series of scholarly lectures on the latest archaeological research findings and related fields such as history, art and texts of ancient times. Reservations are not required. Fees per lecture are: $5 – Residents of CES Life Communities, high school students and co-sponsors; $8 – BASONOVA & JCCGW members, and; $10 – the general public. For more information, please contact BAF.JCCGW@gmail.com.
Interested in learning more about Israel programs at the JCCGW? Contact us!