Experience Musical Excellence at the Bender JCC
Polinger Artists of Excellence Concert Series
The Bender JCC presents its 45th season of rising stars and renowned artists in the 2016-2017 concert series that will delight and inspire. Join us for glorious chamber music favorites by Bach, Haydn, Mozart, Beethoven, Schubert and more. Musicians perform in the Gildenhorn/Speisman Center for the Arts' intimate Kreeger Auditorium.
Click Here to Purchase Subscriptions
Click Here to Download the 2016-2017 Brochure
The New Orchestra of Washington (NOW) Concerts
The Bender JCC is pleased to continue our partnership with the New Orchestra of Washington (NOW) to present exciting chamber orchestra programs in the Kreeger Theater for the 2016-2017 season.  Founded in 2012 by rising stars of the Washington area's professional community, NOW's mission is to make music relevant to new generations of audiences through virtuosic performances that combine a diversity of genres with fresh interpretations of classic works.
Questions about concerts at the Bender JCC? Contact us!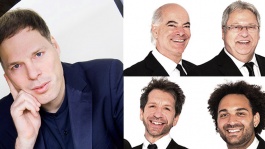 Polinger Artists of Excellence Concert Series
"pearly touch and sparkling runs"  (New York Times)

"a powerhouse of American chamber music" (Washington Post)
Alon Goldstein's artistic vision and innovative programming have made him a favorite with audiences and critics alike. The venerable Fine Arts Quartet ranks among the most distinguished and authoritative ensembles of our time, with an illustrious history of performing success and an extensive recording legacy. This program features rarely heard chamber arrangements by the 19th-century German composer and conductor Ignaz Lachner of two of Mozart's most magnificent piano concertos. Works familiar from the concert hall will sound like they were composed for the drawing room.
| | |
| --- | --- |
| MOZART | Quartet in D Major, K. 499 |
| MOZART/LACHNER | Concerto No. 23, in A Major, K. 488 |
| MOZART/LACHNER | Concerto No. 24, in C Minor, K. 491 |
Click Here for Mozart Chamber Version Video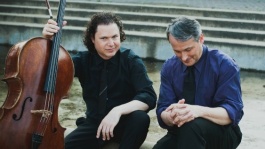 Polinger Artists of Excellence Concert Series
"intimate and revelatory…uncanny and dazzling" (New York Classical Review)
*Please note that this concert begins at 7:00 PM; earlier than our other AOE concerts.
Renowned as a musical pioneer, cellist Matt Haimovitz has inspired classical music lovers and countless new listeners with his fresh perspective on both familiar repertoire and new music and in his innovative recording projects. Acclaimed for his engaging performances, pianist Christopher O'Riley is known to millions as the host of NPR's From the Top. His repertoire spans a kaleidoscopic array of music from the pre-baroque to present-day.
Haimovitz and O'Riley will perform all five of Beethoven's glorious cello sonatas, in a program entitled Beethoven, Period. On a fortepiano for the early sonatas and a 20th-century Steinway concert grand for the late period sonatas, Haimovitz and O'Riley will present an illuminating voyage of discovery back to the birth of the cello/piano genre.
| | |
| --- | --- |
| BEETHOVEN | Sonata No. 1 in F Major, Op. 5, No. 1 |
| BEETHOVEN | Sonata No. 2 in G Minor, Op. 5, No. 2 |
| BEETHOVEN | Sonata No. 3 in A Major, Op. 69 |
| BEETHOVEN | Sonata No. 4 in C Major, Op.102, No.1 |
| BEETHOVEN | Sonata No. 5 in D Major, Op.102, No.2 |