2013-2014 SEASON
Now in its third decade, the Biblical Archaeology Forum (BAF) presents a series of scholarly lectures on the latest archaeological research findings and related fields such as history and texts of ancient times. Reservations are not required. Fees per lecture are $5 Residents of Revitz House, Ring House and students; $8 BASONOVA & JCCGW members; and $10 for the general public. For more information, please contact BAF.JCCGW@gmail.com. Click here to join BAF.
Politics of Dead Kings: Dynastic Ancestors in the Book of Kings and Ancient Israel
Wednesday, April 2, 8 p.m. | JCCGW
Sponsored by Congregation B'Nai TzedekMatthew Suriano | University of Maryland
This lecture will take place at JCC of Greater Washington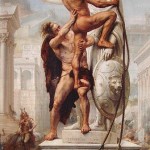 The end of a king's rule produced formulaic statements of succession consisting of a notice of burial in the royal tombs and the introduction of a successor. These statements were designed to deter political intrigue in royal succession. They conveyed royal legitimacy, reflected political ideology and showcased the importance of funerary rituals and royal tombs in dynastic succession. The textual evidence found in these epilogues of dead Kings confirms what we know today about the roiling political landscape of Iron Age Levant.
Roots of Israelite Monotheism: Evidence from Archaeology & Texts
Sunday, May 18 | B'nai Israel Congregation
Co-Sponsored by B'nai Israel Congregation, BASONOVA, BAF and Foundation for Jewish Studies (FJS)
Mark Smith | NYU • Elizabeth Bloch-Smith | NYU, JTS
This lecture will take place at B'nai Israel Congregation, 6301 Montrose Road, Rockville, MD
Mark Smith, a renowned biblical scholar, joins Elizabeth Bloch-Smith, a field archaeologist & author, to explore the origins of monotheism as practiced in ancient Israel. They will examine material evidence and analyze critical texts to support their explosive theory that Israelite monotheism actually came from ______ (sorry, but you will have to attend the lecture to find out).This lecture will be held at 7:30 p.m. at B'nai Israel (6301 Montrose Rd., Rockville, MD), down the street from the JCCGW.